Dental Care For Your Pet-February 2018
Dental Care For Your Pet
Have you noticed your pet's pearly whites are covered by tartar and plaque?  Has their breath been smelly when they give you kisses?  Caring for your pet's teeth is a critical part of their wellness. Plaque and tartar carry bacteria that can enter your pet's bloodstream and cause heart, lung, and kidney disease.  Everyday we brush our own teeth, but what about our pets?  They could really use our help to keep those pearly whites pearly.  Developing regular tooth brushing routines and preventative care will help to prevent periodontal issues in the future, saving you money as well the stress of major periodontal problems your pet could encounter.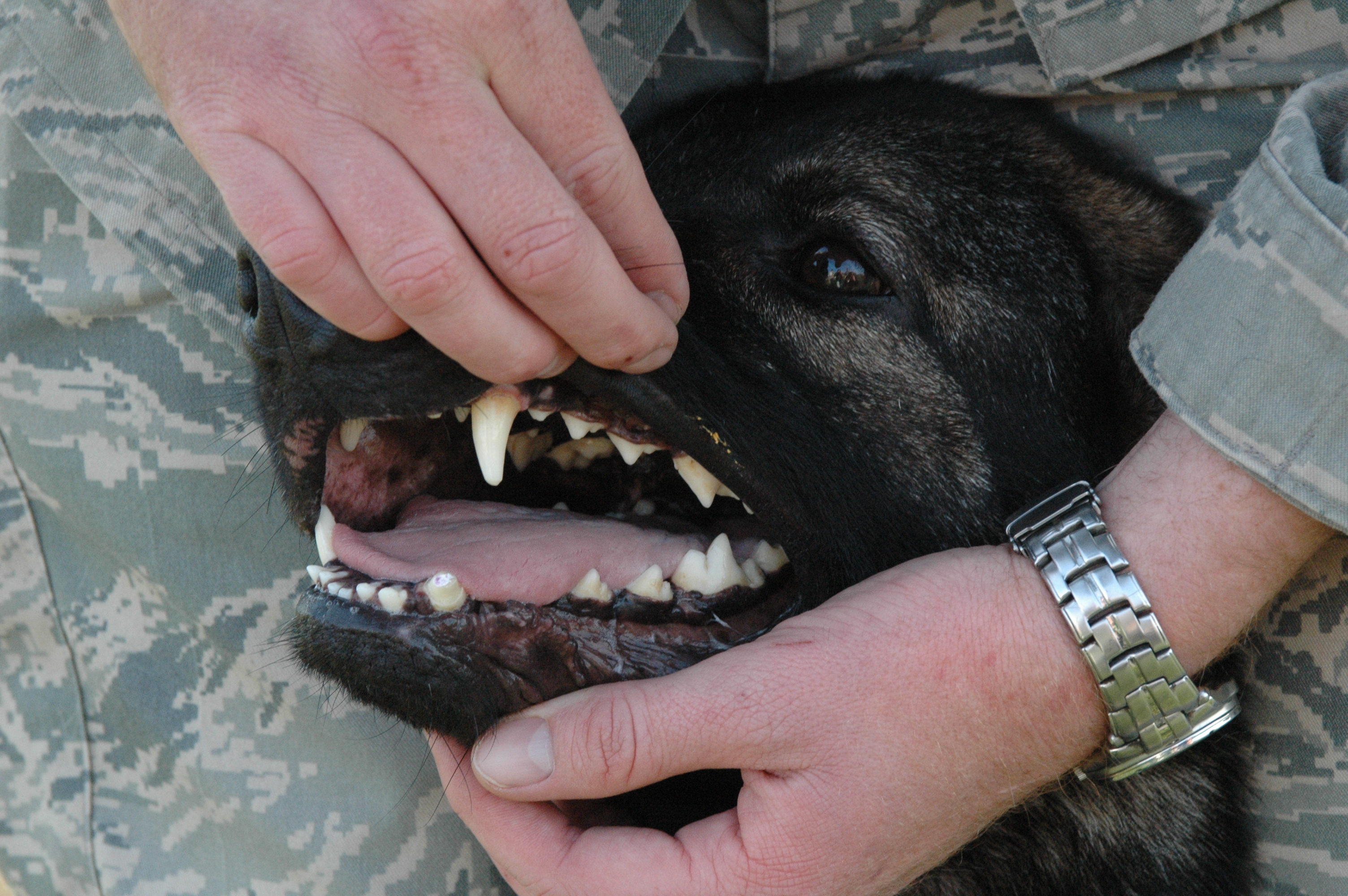 Brushing Your Pet's Teeth
We recommend brushing your pet's teeth daily as the best way to prevent the buildup of tartar, as well as inflammation of the gums.  However, any teeth brushing that you are able to do at all will make a difference.  The physical motion of the bristles over your pet's teeth helps disturb bacterial film that forms on the teeth.  When you brush your pet's teeth, concentrate on the surface of the the teeth that contact the cheek.  If you finish the surfaces that touch the cheek, you can then try to cover the other three surfaces of the tooth.  Don't worry if you're not able to clean all four surfaces of the tooth as the majority of tartar builds up on the cheek (buccal) surface.  
You need to be sure to use a dog or cat specific toothpaste.  Never use a human toothpaste as swallowing this can harm your pet.  There are a variety of toothbrush options, including a finger brush or a soft bristle human toothbrush.  
Don't worry if you've never brushed your pets teeth before. It's never too late to start!  It is most helpful to get a young animal used to having his/her mouth and teeth handled with frequent short sessions and positive reinforcement.  If your pet is not a puppy or kitten, then the same principles can be used especially with the help of a fun reward that follows.  Keeping a tooth brushing session short and sweet with an activity afterwards that your pet enjoys such as a walk or a healthy treat is very helpful to the learning process.  We are always happy to over the tooth brushing process with you, or refer you to helpful videos such as this one:
https://www.youtube.com/watch?v=wB3GIAgrTPE
While you are brushing your pet's teeth, please keep an eye out for teeth that are loose, broken, or painful.  Take a look also at your pet's gums to see if there is any swelling, bleeding, or masses.  Note if your pet may also have any appetite loss, dropping of food from his/her mouth, and unusual chewing or drooling.  Pay attention to any attitude changes your pet may have, as irritability can be a sign of oral discomfort.  Any of the above observations mean that your pet needs to have an oral exam by your veterinarian.  It is important to address these issues early so that they can be nipped in the bud.
Professional Dental Cleanings
The American Animal Hospital Association recommends that your pet's teeth be professionally cleaned annually beginning at one year old for cats and small dogs and starting at two years for large breed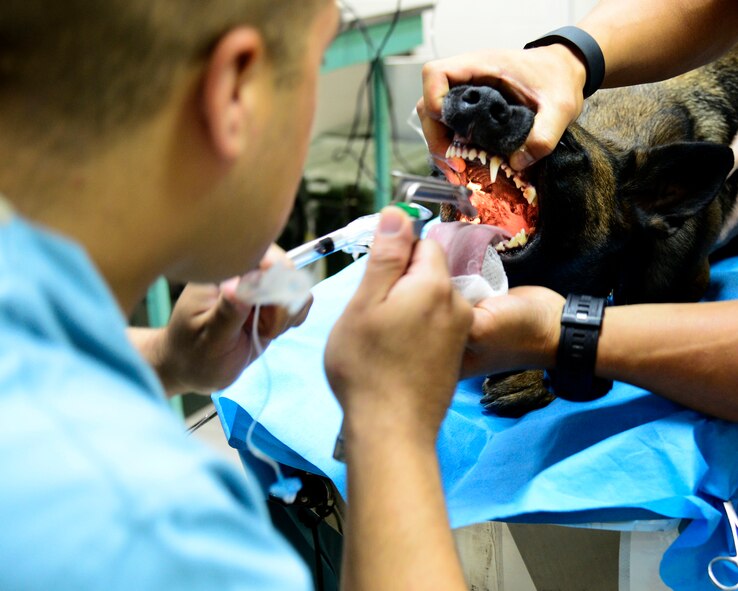 dogs.  In preparation for a professional cleaning, your pet will have pre-anesthetic bloodwork performed to be sure that he/she is a safe candidate for anesthesia.  Your pet will be sedated, intubated, and carefully monitored under anesthesia for the procedure.  During this time, your veterinarian is able to do a complete oral exam looking for periodontal disease and oral tumors.  Since we are only able to do a brief oral exam in most awake patients, this is the best time for your pets whole mouth to be examined. Scaling is performed to remove plaque and tartar from above and below the gumline, which is very important to the health of your pets' teeth. Scaling is followed by polishing with paste that smooths over the enamel surfaces.  Fluoride or another type of barrier sealant is then applied to all surfaces of the teeth that act to repel plaque.  
Dental Chews, Treats, and Toys
While frequent tooth brushing is the best way to prevent and remove the buildup of plaque and tartar, dental specific treats and toys can be a helpful adjunct to regular tooth brushing.  One thing to keep in mind is that a dental chew will not clean all four surfaces of the teeth due to the way pets chew.  This means that just the incisal surface of a tooth is cleaned, rather than the part of the tooth nearest the gums where plaque and tartar are most likely to accumulate.  Treats that have the Veterinary Oral Health Council have met quality standards for removal of plaque and reducing tartar. Monitor your pet to ensure that they are actually chewing the dental chew or treat in order to receive the most benefit. As always, please use caution when giving your pets treats and chews to ensure that they do not choke or swallow these chews whole.  Never give your pets bones, cow hooves, pig ears, plastic bottles, antlers, or rawhides.  
Water Additives, Rinses, and Sprays
Water additives, rinses, and sprays help to reduce the bacterial load in a pet's mouth.  Oratene and AquaDent are examples of water additive products that act as safe to swallow mouth washes.  Oral rinses like DentaHex can sprayed over your pet's teeth daily to also help keep bacterial numbers down.  We also offer Leba-III spray that can help the healthy bacterial balance in the mouth.  
Foods to Promote Dental Care
Dry foods have more abrasive activity on the teeth than canned food to help remove tartar and plaque.  Dry foods are also less likely to get packed in between the teeth and in the gingival (gum) crevices.  Plaque and tartar will still accumulate on teeth in spite of feeding your pet a dry diet even a dental diet.  Always keep in mind that a dental diet does not replace regular teeth brushing.  Some dental diets include Canine and Feline t/d and Science Diet Oral Care and Eukanuba Dental Defense Diet.Here is a link that provides a list of dental diets:
http://www.vohc.org/VOHCAcceptedProductsTable_Dogs.pdf
Sources:
-AVMA Pet Dental Care
https://www.avma.org/public/PetCare/Pages/Pet-Dental-Care.aspx
-AAHA Dental Care Guidelines for Dogs and Cats
https://www.aaha.org/pet_owner/about_aaha/why_accreditation_matters/guidelines_position_statements/aaha_dental_care_guidelines_for_dogs_and_cats.aspx
-American Veterinary Dental College